La Vierge Noire à la Fin des Temps
La Vierge Noire à la Fin des Temps
Pourquoi trouve-t-on en France, de manière disproportionnée, davantage de statues de la Vierge Noire que dans d'autres pays ? Pourquoi la trouve-t-on ici de préférence dans des lieux de force du paysage ayant un niveau d'énergie plus élevé ? Pourquoi la figure de la Vierge noire est-elle en France étroitement liée à Marie-Madeleine ? Les réponses à ces questions se trouvent dans ce livre.
Le livre suit la Mère obscure en France à travers les époques et les cultures. Elle se présente ici en Vénus noire des temps préhistoriques, en Mari mère primitive des Basques, en déesse-mère noire Ana des Celtes, en déesses noires orientales telles qu'Isis, Artémis, Cybèle, Athéna et Vénus, et enfin en Sara, la mère tribale noire des gitans. Après cela, le livre établit un lien entre les nombreux centres de la Vierge Noire dans le sud de la France et Marie-Madeleine, qui apporte ici un christianisme secret et respectueux de la femme. Le livre s'attache ensuite à la Vierge Noire, en passant par les Mérovingiens, les Croisades, les Cathares et les Templiers, jusqu'à sa période d'épanouissement aux 11e, 12e et 13e siècles.
À partir de ces différents angles, le livre approfondit la signification de la couleur noire en relation avec la Mère obscure: cosmologie, alchimie, psychologie, géobiologie et histoire de l'art. Dans ce livre, la Vierge Noire est d'abord la Mère de la Terre obscure inspirée. Le livre montre que l'on trouve les statues de la Vierge noire en pleine nature sauvage et apporte des explications scientifiques sur le pourquoi des vibrations plus élevées de la terre en ces endroits.
Symboliquement, la Mère obscure joue avec l'Obscurité et la Lumière, ce qu'elle intègre aux niveaux collectif et individuel. Ce faisant, elle annonce la fin d'une ère, qui est en même temps un nouveau commencement.
Avec un répertoire complet de localisation des Vierges Noires en France par département et par commune.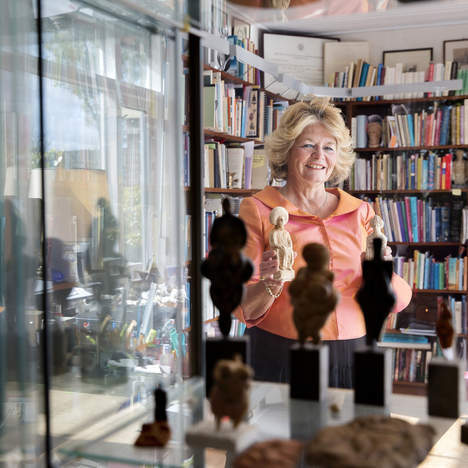 Dr. Annine van der Meer est historienne, théologienne et spécialiste des symboles. Elle a écrit plusieurs livres qui font autorité dans le domaine de l'histoire secrète de la féminité et des femmes, ainsi que de leurs contributions oubliées à l'évolution et à la civilisation. A partir de ce que l'on peut qualifier de His-Story, elle fait ressurgir Her-Story, dans le but d'écrire Our Story. Elle complète au besoin l'image de la femme et de l'humain pour accéder à l'égalité, l'harmonie, l'équilibre et la paix dans le monde. Elle se focalise sur la prise de conscience et l'émancipation des femmes et des hommes de maintenant. Annine est une intervenante très demandée, tant à l'échelon national qu'international. Elle donne, dans le monde entier, des conférences qui traitent de l'ensemble des études féministes, selon une approche intégrée et interdisciplinaire.
ISBN 9789082672923
format: 15,5 x 23,5 cm
440 pages avec 289 illustrations en couleur et en n/b
Traduction: Pierre-Jean Brassac
Prix: €26,-
Please write an e-mail to Mr. C.C. Shum if you would like to order this book. 56shum@gmail.com
E-mail-address of the author dr. Annine van der Meer: anninevandermeer@caiway.nl
Tel.: 00 31 (0) 174 623748
Purchase price for bookshops : € 12.50
Postal Costs till 10 kg (17 books) to France: € 11,75. If you order five or more books the editor pays de postal costs.
Purchase price for individual buyers for one book: €26,00 with costal post of €11,75. If you order five or more books the editor pays de postal costs.